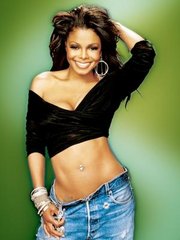 Černá americká zpěvačka a hráčka na klávesové nástroje (vlastním jménem Janet Damita Jo Jackson), narozená v Gáry v Indianě (1966) jako sestra slavných sourozenců Jacksonových. S nimi nahrává a vystupuje pouze sporadicky. Orientuje se především na diskotékovou scénu.

Ve 2. pol. 70 let se objevuje v několika TV programech, ale zásadní úspěch hudební se dostavuje až v r. 1986 v podobě hitů What Have You Done For Me Lately (úspěch i v Anglii), Nasty a When I Think Of You (1. místo v amer. žebříčku). Špičky americké hitparády dosáhne i album Control z roku 1986.

V dobře nastartované kariéře ji provázejí jak další úspěšná alba Rhythm Nation 1814 (1989) a Janet (1993) - obě na špici amer. hitparády, tak řada hitů, m.j. Miss You Much (1989 - 1. v USA), Rhythm Nation, Escape, Come Back To Me, Black Cat (všechny 1990, přitom Escape a Black Cat byly 1. v amer. hitp.) a Love Will Never Do (1991).